Congratulations to our 360FCU Team!
360FCU has been awarded with four 2017 CUNA Awards at the State Level!
Dora Maxwell Social Responsibility Community Service Award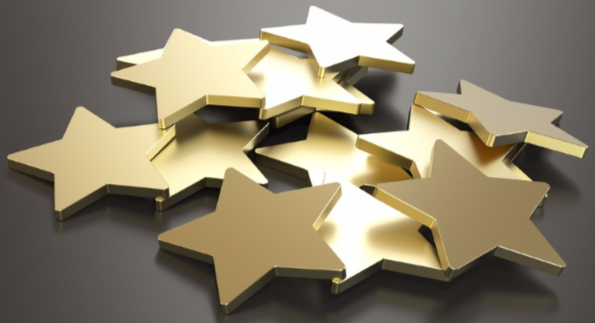 The Dora Maxwell Social Responsibility Community Service Award is given to a credit union or chapter/multiple credit union group for its social responsibility projects within the community.
Helping Hands 2016
360 FCU encourages volunteerism and has a policy in place for employee volunteering. The credit union allows team members to use company time to volunteer hours at charities near and dear to them, and a monetary donation is made to a charity that an employee gives 30 hours or more to. With Helping Hands, the credit union educates their employees on a selected charity each month and engages them in making donations by having jeans days where employees donate $5 to the cause. The credit union also sells chocolate bars in the branches for employees and members to purchase, creating additional awareness of this charity in the community by involving the membership.
Louise Herring Philosophy-in-Action Member Service Award
This award is given to a credit union for its practical application of credit union philosophy within the actual operation of the credit union. It is awarded for internal programs and services that benefit membership
2016 Community Savings Challenge
360 FCU challenged its members and community to save $350,000 in loan interest through refinancing their loans from other financial institutions. The community savings challenge program saved community members money from high interest loans, all while giving money back to the community. Once the $350,000 goal was met, the credit union donated $6,000 to three local charities, allowing members and the community to vote on Facebook and their website.
Desjardins Youth & Adult Financial Education Award
The Desjardins program recognizes leadership within the credit union movement on behalf of financial literacy for all ages. The recognition program considers all activities supporting the personal finance education of members and non-members. There are separate categories for youth and adult education.
2017 Youth Education
The mission at 360 FCU is to guide their members to financial independence through member advocacy. Financial education is something the credit union is extremely passionate about. Having recently celebrated the ten-year anniversary of their branch located in Enfield High School, the credit union saw an opportunity to move youth in the right direction of financial literacy. They often provide financial education to youth throughout their service area by promoting savings, and expressing the importance of mindfulness when it comes to money handling and spending. The credit union has held Personal Finance classes at various high schools in their area reaching nearly 1,000 students.
 2017 Adult Education
360 FCU works with many different businesses and community partners throughout their charter to teach about personal finance. They offer topics such as "Understanding Credit Reports", "Creating a Spending Plan", "Budgeting", Rebuilding After A Financial Crisis", "Identity Theft", "Homeownership", and many more. The credit union sets up no cost seminars with local small and large businesses during mornings, lunch hour, or evenings for any employees interested in attending, and offers to meet individually with any participants to discuss their specific needs. Their core purpose centers on guiding members to financial independence. Within the community, they work with the local chambers of commerce, public libraries, senior centers, and non-profits to provide personal finance workshops. They also invite members and the public to personal finance workshops at their headquarters at both lunch and evening sessions, to reach as many people as possible. During the year, the credit union has provided more than 60 seminars and workshops on a variety of topics reaching approximately 1,000 adult individuals.